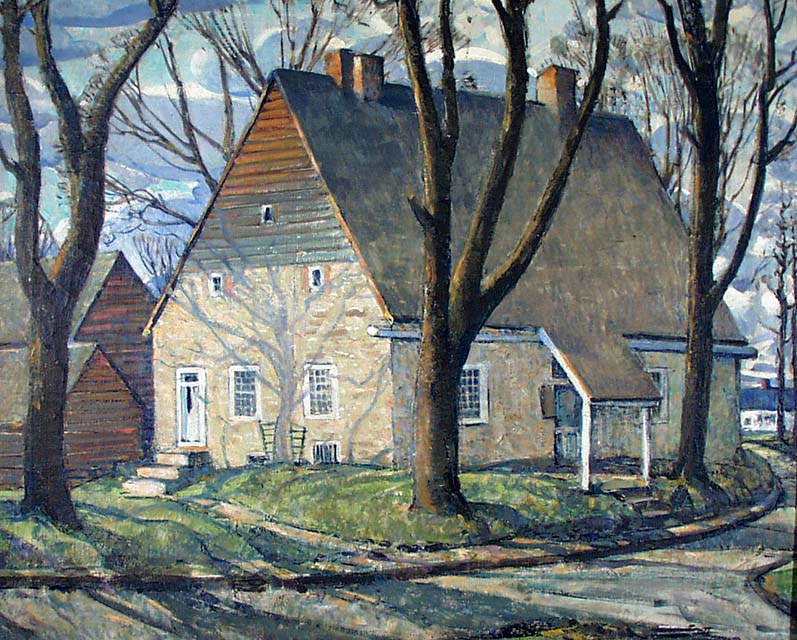 The small oil on canvas, Hasbrouck House, by James Scott, (1889–1967) has the designation of being the first artwork acquired by the museum in 1939. Yet, when this painting arrived at our doorstep, the university was known as the New Paltz Teachers College and it pre-dated the original exhibition space known as the College Art Gallery (1956) which was later transformed into The Samuel Dorsky Museum of Art (2001).
In the mid-1930s the Faculty Wives Club at the College had a mission to acquire and then make available original pieces of art in various buildings on campus. This group of visionary women felt strongly that students could learn much by seeing original art displayed in the areas on campus they frequented most. Little did the members of the Faculty Wives Club know that their first acquisition was going to lay the groundwork for a collecting strategy that would culminate today with a museum and a permanent collection that contains close to 6000 objects and is still growing!
While early records on how this work came to the college are a bit sketchy, we know that the artist, who was a resident of Milton, New York, was commissioned by the Works Progress Administration (WPA) to document scenes in Ulster County in the 1930s. When Scott was approached by members of the Faculty Wives Club for a donation of a painting of a local scene, he immediately went to the administration at the WPA in Washington, D.C. and convinced them to place Hasbrouck House on long term loan to the college. Along with this painting came the promise that this loan would be converted into a permanent gift to the College at some point in the future.
James Scott was born in 1889 in Racine, Wisconsin and after extensive studies at the Art Institute of Chicago and in France he settled in Milton, New York in 1913. During his time in the Hudson Valley, he continued his art studies in Woodstock, New York and at the Art Students League in New York City. In 1918 Scott was drafted into the United Stated Army and was stationed in France during World War I. After the war ended, he remained in France to continue his art studies and to teach as well.
In 1920 Scott returned to the little village of Milton on the banks of the Hudson River where he continued his art career by teaching, and exhibiting in local galleries. During this time he also became a member of the prestigious Salmagundi Club and exhibited in New York City at the Babcock Gallery. In 1966 Scott moved to Denver, Colorado where he died in March of 1967. His work today can be seen in a number of museum collections across the county.