Distinguished Speaker Series
Indulge Your Senses: Scaling Intimacy in a Digital World
Monday, March 28, 2022 | 7 pm (EST)
SUNY New Paltz, Science Hall Auditorium (Note: Location Change)

---
After starting two iconic music venues, The Knitting Factory and City Winery, and surviving the dot-com bust, the great recession, and now a global pandemic, Michael Dorf offers gripping stories and hard-earned business lessons with a contrarian twist— As technology becomes more deeply woven into our lives, the key to success can be found in satisfying people's yearning for live human interaction.
Sharing riveting tales from his book, Indulge Your Senses: Scaling Intimacy in a Digital World, Michael Dorf recounts three decades of business escapades and dispenses invaluable wisdom for entrepreneurs, executives, students, professionals, and lovers of music and wine alike, struggling to balance the virtual and the real in a world awash in technology.
All in-person attendees receive a complimentary copy of Indulge Your Senses: Scaling Intimacy in a Digital World autographed by Michael Dorf at his book signing following the event. The book can also be purchased here.
Michael Dorf is an American entrepreneur. A native of Milwaukee, Wisconsin, he founded the iconic Knitting Factory, a New York City music performance venue, and City Winery, a 12-location chain of high-end multi-purpose venues, all offering intimate concerts, upscale dining, private event spaces and a fully-functioning winery on premises.
---
General admission is complimentary. A $10.00 donation is suggested to the SUNY New Paltz Foundation to support future educational programs for our students.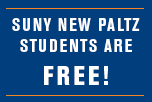 WebEx link will also be sent prior to the program

If you have any special accessibility needs, please contact sandickl@newpaltz.edu as soon as possible prior to the event to make appropriate accommodations.
In order to provide adequate social distancing, guests will be appropriately separated. Masks must be worn at all times while indoors on campus, regardless of vaccination status. Proof of full vaccination or negative COVID test within 72 hours required for in person attendees.
SUNY New Paltz is working to provide a safe, in-person experience for in-person attendees, consistent with continued progress against COVID-19 in New York State. You can read more about Spring 2022 Guidance provided by the SUNY System here.
Now in its fourteenth successful year, our Distinguished Speaker Series features high-profile individuals from literature, public affairs, and popular culture, with each presentation attracting the campus community and the wider public, generating media coverage, and providing memorable experiences for our students. SUNY New Paltz received a generous gift from a private donor to initially underwrite a portion of this signature campus program.
Opportunities are available to recognize you or your business before and throughout the event. For information, sandickl@newpaltz.edu.