Beth King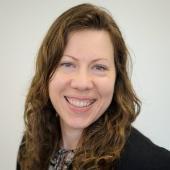 Beth King (She, Her, Hers)
Internship Coordinator
kingb@newpaltz.edu

Schedule a meeting with Beth

Beth works with students seeking internships in ANY major!


---
After earning both her undergraduate and graduate degrees at SUNY New Paltz, Beth was fortunate enough to come back home to her Alma mater to work for the last 15 years and has been a career professional specializing in experiential learning for a total of 21 years.
Each semester, Beth co-plans all aspects of the Career Fair and Resumania! with Christine Daly. Beth creates and sends the CRC's weekly electronic newsletter. She oversees the CAS Internship Stipend scholarships for spring, summer and fall, as well as coordinates the Teaching English Abroad event each fall and the Annual Internship Recognition Ceremony each spring. As a alumna of SUNY New Paltz, Beth co-facilitates the First-Year Internship Program with Erica Wagner, Service Learning Coordinator, and hosts an amazing intern each spring. In addition, she plans campus visits for internship programs and also career exploration trips for students to visit employers such as to Lincoln Performing Arts Center, the American Museum of Natural History, and NBC Universal in New York City.
In Beth's spare time, she serves on the board of her town's library as Vice President, is the Vice President of her son's Parent-Teacher-Student Association (PTSA), is the former Technology Director of a professional organization's board (NYSCEEA) and the past President and active member of a local civic organization. She is married to a SUNY New Paltz alumnus.