Coronavirus information and Resources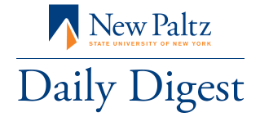 IN THIS ISSUE:
Nina Smiley, Ph.D., will host mindfulness webinar
New location for the Scholar's Mentorship Program
Remote Teaching Week: Creating and Grading Assignments, today!
Instagram Live with recent alumna and the Career Resource Center
Save the date! Town Hall on Re-Opening Campus: Session 2, July 20
Reopening FAQ of the Day: I am an Educational Opportunity Program (EOP) student. How will the EOP Office support me?
Theses and Capstones: Coral observations
Events and opportunities
Coronavirus updates
The latest from media
I am an Educational Opportunity Program (EOP) student. How will the EOP Office support me?
The Educational Opportunity Program (EOP) program will offer advising, tutoring and support to our students remotely.
SUNY has provided incoming EOP students with laptops. Continuing students were provided either with a campus or SUNY loaner laptop in the spring, as requested.
EOP students will be given priority for student housing in the fall and will therefore have access to on-campus technology resources.
EOP counseling and advising will continue using WebEx and Starfish as the key platforms to advise our students. In-person counseling will be limited to specific student cases and only when a student and advisor are following all the safety protocols instituted by the College. Tutoring will be provided remotely through Blackboard Collaborate Ultra.
EOP instituted a WebEx drop-in time in spring 2020 to allow students to get personal attention without an appointment. This practice was very successful and will continue in fall 2020.
The College's fall 2020 reopening plan is highly detailed and dense, and our corresponding list of FAQs runs to nearly 10,000 words (and counting!).
In an effort to make this very important information more digestible for campus community members, we're highlighting questions and answers in this newsletter, one per day, as the fall semester approaches.
Please note: We are working to update and add FAQs as planning continues and this situation evolves. We will prioritize sharing the most current information in this space.
Student Capstones and Thesis Work
It was genuinely difficult to keep up with the staggering volume of galleries, exhibitions, original research and video presentations New Paltz students published at the end of the 2019-20 academic year. We'd like to take time this summer to spotlight individual projects and give this exceptional scholarship and creative work its due.
Jessica McDonnell '20g (Printmaking)
"The first time I plunged into the ocean and opened my eyes to the bustling world of the coral reef was unforgettable. Equally remarkable has been the effect humans have imposed there, from rising temperatures and acidity to plastic pollution. This series is an intimate look into this complex system. Each piece is a pause- a reflection on both the reef's current status, and the inner workings of an underwater landscape facing mounting pressure to change in order to survive. Dead is the reef we've known, crashing on the shore is the one we have forced into labor, birthed into something new."