Janna Levin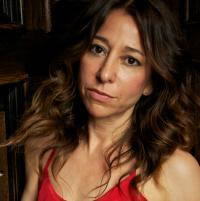 On Thursday, November 10, 2011, The State University of New York at New Paltz Distinguished Speaker Series presented one of the world's leading conceptual physicists, best-selling, award-winning author and Professor of Physics and Astronomy at Barnard College of Columbia University, Janna Levin, on the topic of The Third Culture:
In her talk to approximately 400 attendees, Professor Levin discussed the crossover between the arts and the sciences, and the increasing importance of the scientific imagination in achieving the intellectual goals of a liberal arts education.
The powerful lecture was well-received and included an interesting PowerPoint presentation demonstrating examples on how art and science fused together to develop sounds and sites in an imaginative way.
"Janna Levin has made significant contributions as a theoretical physicist in the fields of cosmology and black holes," said Amy Forestell, assistant professor in New Paltz's Department of Physics. "She has done much to involve the general public in the world of science. Dr. Levin has spoken at many world-class venues and we are very fortunate to have her as the fall 2011 Distinguished Speaker. As a woman with combined work in both astrophysics and the arts she is helping to break stereotypes about scientists and will inspire more young girls to enter the STEM (science, technology, engineering and math) fields."
Professor Levin appeared in November, 2011 on the PBS/Nova Show " Fabric of the Cosmos" hosted by Brian Greene, The Colbert Report, and has appeared on several radio and television programs.
Read Janna Levin's complete bio
Read Janna Levin's press release
See Janna Levin on the Colbert Report